Remember what I said at the end of my last post How a little Flip Camera Can Save Your Presentation?
I foolishly said "Next week, it's my turn".
That's the way I learn: even when I'm scared and don't have a clue, in order to achieve something, I "kick my own ass" and challenge myself out of my comfort zone.
I've been using video for 17 years now, during my trainings and workshops. I always made sure participants, delegates or students were at ease and relaxed, but in fact, didn't give them much choice. They had to endure the video trial.
I was at the comfortable place of the expert, giving constructive feedback. Well, not so comfortable, since I was also getting feedback, at the end of each training course. But I didn't have to video myself, to watch my self and know that others will watch and see how bad I was!
Now, it's only fair I do it too!
Of course, I've also been video taped, but it was on "special occasions", formal setting, speech polished and rehearsed, during conferences at work, or for pleasure, with my theater friends, performing a joyful play.
It's another story to decide, on your own, from scratch," cold", alone in front of your camera to speak pretending to look "natural" , engaging and passionate.
Without further ado (I love this expression!) here's the Flip Video, as promised.
Untitled from Marion Chapsal on Vimeo.
There's plenty of room for improvement and it's really painful to watch oneself, believe me!
Trying not to focus on the weaknesses, on the absence of editing (couldn't figure out the software, even the most basic, yet!), on the repetition of words, on  what I could have said, instead,and on...I could just take this off and do it again.
My purpose was:
To Walk my Talk
To Post my First Live Flip Video on my blog
To Thank @MariamMKobras and show her her red mug!
To Show you that anyone can do it, it can only improve with the time!
To make the first step, the hardest!
Now, YOUR turn! :-)
Can't leave this post without mentioning Elizabeth Potts Weinstein 's video blog.
Read her blog and you will discover The *Real* Reason Video Is Hard
Next week, I'm going to share a live recipe of "Fondants au Chocolat", Presentation Recipe à la Marion!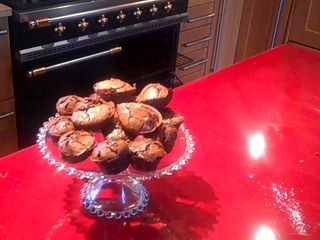 Mixing Cooking and Presentation, like in this tweet, received an hour ago!
"@stevecherches @MarionChapsal @LisaBraithwaite Food & presos continued. RT @BertDecker: What does gnocchi have to do with speaking? http://bit.ly/bBEuHG"
Bon Appétit!