It's already April and on Geronimo Leadership's Calendar, we have "the April Girl", The Innovator Communication Style!
Before introducing you to the woman leader I picked up to illustrate this dimension, let me present you the main Dilemma between The Innovator and The Analyser leadership and communication styles.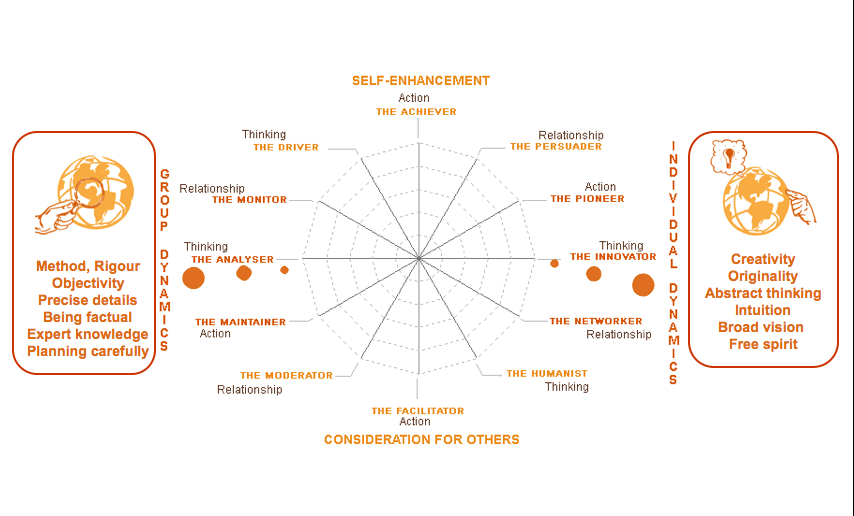 Previously, on Geronimo24 hours:
The Achiever with Ursula Burns, stretching towards The Facilitator
The Persuader with Meg Whitman, stretching towards The Moderator
The Pioneer with Gail Evans, stretching towards The Maintainer
(The Next one will be The Networker, with Arianna Huffington, stretching towards The Monitor)
Now, The Innovator!
Typically, someone communicating with a strong preference for The Innovator dimension would be seen as:
"Prolific and creative brain-stormers who are attracted by abstract issues and intellectual challenges. Attached to freedom of expression, they feel comfortable in initiating original and unconventional projects."
There are many American women leaders who fit in The Innovator Style of Management and Communication. Just like the Persuader and the Pioneer styles, it makes perfect sense with the North-American cultural values.
One of the most famous today is Charlene Li, and I will make a special post about her and analyse her communication style (with a great video, that I couldn't find for this example)
In this post, I'm going to star a woman whose name you may have never heard of, but I bet you will, very soon!
Because I wanted to find women leaders, from as many different cultures around the world as possible, I picked up a fantastic woman entrepreneur from Jordan.
Her name is Randa Ayoubi, she's the CEO and founder of Rubicon.
She created a 3D animation and computer graphics company in the Middle East
How did it all started? "With an idea, way out of there", she says.
She had a vision of creating a business whose purpose would be to teach children from her country, while playing and building a better world in the Middle East.
"Kids learn best when they play". Randa Ayoubi (link to WISE Muslim Women, a site I discovered when researching for her)
She imagined and designed two characters 'Ben & Izzy' , heroes of a children's animation series, in a co-production with some of the best animation directors in the US :
"The production will follow the exploits of two pre-teen boys, one Arab and one American. The boys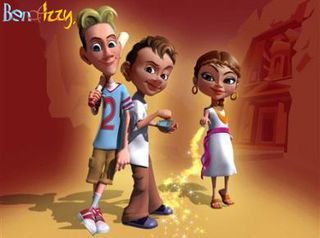 meet in Amman, Jordan, where their respective grandfathers, who are life-long friends, are working on a massive archeology excavation project. There, the mischievous boys become friends, and through their adventures uncover an ancient treasure room containing a time travel mechanism that takes the boys back to great historical moments. The series is about the east-west cultural differences presenting it from a children's point of view. The stories will be educational both for the western and the Arab audience as it includes many of the Arab/ Muslim historical accomplishments with the characters traveling through Jordan, Egypt, Lebanon, Bahrain, Iraq and other places."
Here is how she communicates visually: with this Avatar of herself!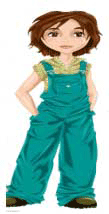 Quite informal and very expressive when talking through projects or ideas.
What are the core competencies of The Innovator?
Free-minded, visionary, strategic thinker, unconventional, independent, original.
Randa Ayoubi seems to embody these skills.
When asked about how she sees Rubicon in the next 10 years, her instant reply:
"You know Pixar? We're going to be Pixar!"
As she 's a very successful business woman , has an Executive MBA from Harvard Business School, I guess she must have developed a lot of other dimensions in her leadership style. Especially the Analytical dimension, with a focus on quality, details, methodical mindset and well-defined strategy. But how she communicates, and how she has expressed her vision is very innovative.

So, how can YOU develop a more creative and innovative communication style?
If you're more Analytical oriented, you might find it challenging to rely on your intuition and to express emotions.In search of precision and clarity, you may lack flexibility and creativity.
Here are some advices for you:
Out of Professional Context
Participate into improvisation classes, they're excellent to prepare your next presentations
Have fun communicating differently in informal contexts
Volunteer to make a small speech during family gatherings (get some help first!)
 Tell 3 short stories about yourself,your personal experience and find the link between them (this technique , The Magic Three, is very well developed by Terrence Garguilo at Making Stories)
At the Work Place
Practice your "elevator pitch" via a bubble tweet video (like the one above )
Go to networking events and really engage with the people you meet, rely on your first impression, connect with your intuition, with your emotions
In your next meeting, share your vision of the future, encourage brain-storming, new ideas
Be curious, ask plenty of questions, even silly ones...(yes, especially silly ones!)
Start with "it may be silly, but, what if we...?"
With "What if", we can create incredible stories and make them come true!
Next post will be about a French woman entrepreneur, very innovative, Coco Chanel, and you will also see how original and "avant-garde" she was in her communication style!
Isn't it funny, but I have much more examples for this Innovative style of communication, than, let's say, for example, the monitor or the analyser!!! I guess you will not be surprised to learn it's my favorite style, with the Humanist and Facilitator!