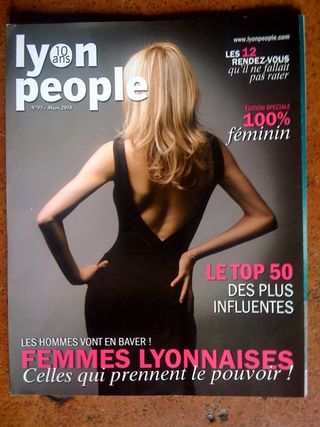 Here is the Front Page of a French Magazine, March 2010. I found it last Thursday, as I was waiting for a business meeting, at the hotel lounge.
What attracted me was the title "Femmes lyonnaises : celles qui prennent le pouvoir!"
Women in Lyon : women in charge ( literally women who take the Power!) Also the Top 50 most influential women...
Ok, why not, I was curious and took the magazine while waiting for my appointment.
Two remarks:
The picture is a very sexy woman's  naked back

, with a dress you would only wear on Oscar ceremony or festival de Cannes. What does it have to do with women leaders and women 's influence? I guess a man must have designed this front page, for other men...
 Second remark: the little header before the big headline

Les Hommes vont en baver!

Now, that's really shocking. It means " men are going to suffer" (literally :men are going to drool) The content of the magazine reflected the cover, not worth mentioning here. On this women's month, I wanted to blog about the distorted representation of women and power in the media. 
Waiting for your comments!