"Already 7 days without twitter. I survived! :-)"
This is where I was, "into the Wild"...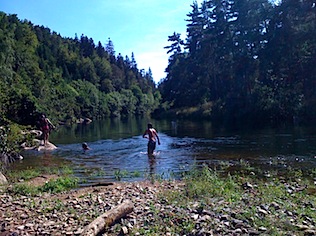 I left home saturday morning with my husband, 3 of my children, one of their friend and my father -in -law, for one week near Pradelles, Auvergne (France), knowing that I would not be able to access any internet connection.
This is a very special place for me, filled with childhood memories, my father and grand-father craddle.
Imagine 110 hectares of spruce trees plantations, crossed by a wild river filled with jumping trouts and multicolored dragon flies.
Main inhabitants are wild boars,deers,horses, cows, sheeps and mushrooms...(cepes,chanterelles and morels)
I had done this previously in July, for 3 days, going to the same place alone with 4 children. It had been great.
This time, I decided I would blog about it ,using Ecto, allowing me to work offline, thanks to @MichaelHyatt's post "inside my Blogging Toolbox"
You can read about my Twitter addiction here. I've already written 4 posts about Twitter and actually, my activity on Twitter is inversely proportional to my writing on my Blog...
Why "detox"?
This expression was suggested to me by my excellent Twitter friend, Dorothy Dalton (@DorothyDalton) when she heard I was again going to leave without connection and when she saw me twittering compulsively just before I left.
I liked it, it made me laugh and thought it would make a good tittle for a summer post.
Why a Twitter Detox?
I had became really hooked up (read Twitter addict)
I could not find time to write anymore
I was not thinking on my own
I was oblivious to other needs
Skipping meals
Neglecting exercise
Ignoring what used to be my daily routine
Not interacting with non twitter friends (sorry Véronique, Marie Claire, Pascale, Tam, Cheryl, Joy, Julia, Angela...!)
Taking for granted the rest of the world
Worse, I was much less present for the love of my life, my husband, my best friend
What are the benefits of a Twitter Detox?
Obviously more time for everything else!
Twitter is Time consuming and life flies without you paying attention
I write again
I think on my own without referring to a quote or checking on someone else's blog
I rediscover simple pleasures
I spend hours reading
I spend time in my kitchen, exploring my cookbooks
I go outside and walk,hike, climb, swim and simply contemplate the nature for hours
I cook slowly (instead of skipping meals and then rushing to fix something at the last minute!)
I'm playing plenty of games with my children
I engage again in long conversations with my husband, sharing precious moments of laughter and complicity
May be that's just what holidays are for, to remind us of our favorite ways to spend our time...
Decision
This Twitter Break reminded me of 3 virtues I want to develop and focus on:
Clarity with my goals and priorities

Discipline

Balance
On twitter, the friends who have been most supportive in living up to these values are:
I can only recommend you warmly to read their bio and website, follow them and connect with them.
I 've often "retweeted" quotes regarding seizing the day, the importance of here and now, the Zen of accepting to be fully aware of the gift of present time.
RT @RaviTangri: "Only by appreciating the present can the present appreciate" - Ravi Tangri
Isn't it ironic? I was 100% sincere, and I'm convinced I will tweet again about it. Next time, though, remind me to stop for a while and do what is on my precious treasure list... Or I could find myself like in that cartoon: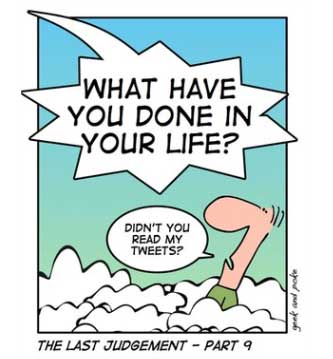 What would be the benefits for YOU?
How would you spend your extra amount of time?
Who around you would benefit, right now, if you stopped twittering for a few days?